Check us out 'in-store' at the coming Flea event, Makers' Parade by Makers' Market! Our booth will be set up on all 3 days from 14th to 16th July, Friday to Sunday, from 1pm to 9pm! Location is the School of the Arts (SOTA) Level 1, outdoor.
Look out for the gazebo with hanging light bulbs and our unmistakable QA logo! The glossy red NS-1800 4 inch 2-way speakers should be bright enough to spot us from a distance as well! On set will be the glowing Muzishare X5 EL34 tube amp to power that Nobsound speakers; definitely a great chance to see in person these two beautiful set of products performing at their best!
Update 3rd July: Our flea application has been rejected and cancelled by the organising flea event management citing our cables "are not original creation and/or handmade, we regret to inform you that your merchandise are deemed as unsuitable for the event (as per event details). The management is looking for more artisan products such as arts and crafts."
Oh well, and we thought we can make the event more diverse and attract more types of crowds…
Anyway, except the no-go for the flea, NOTHING CHANGES. In fact, we will be pulling the flea promo prices out and marked all prices during this period to the lowest prices of the pre-order promo! The sale will be extended over to 16th July!
To mark our first Flea with offers, We are having an exclusive online pre-ordering promotions as well! Prior to the Flea, We are offering even lowest prices for all our products! These fantastic prices will go on NOW till 13th 16th July.
All pre-orders made and paid by 3rd July to collect/ship during 15th weekend at Hougang.
All pre-orders made and paid by 10th July to collect/ship during 22nd weekend at Hougang.
All pre-orders made after 10th July to collect/ship during 29th weekend at Hougang.
So the sooner you placed your order, the earlier you get them!
Place your order now here: https://quartzacoustic.com/flea-pre-order/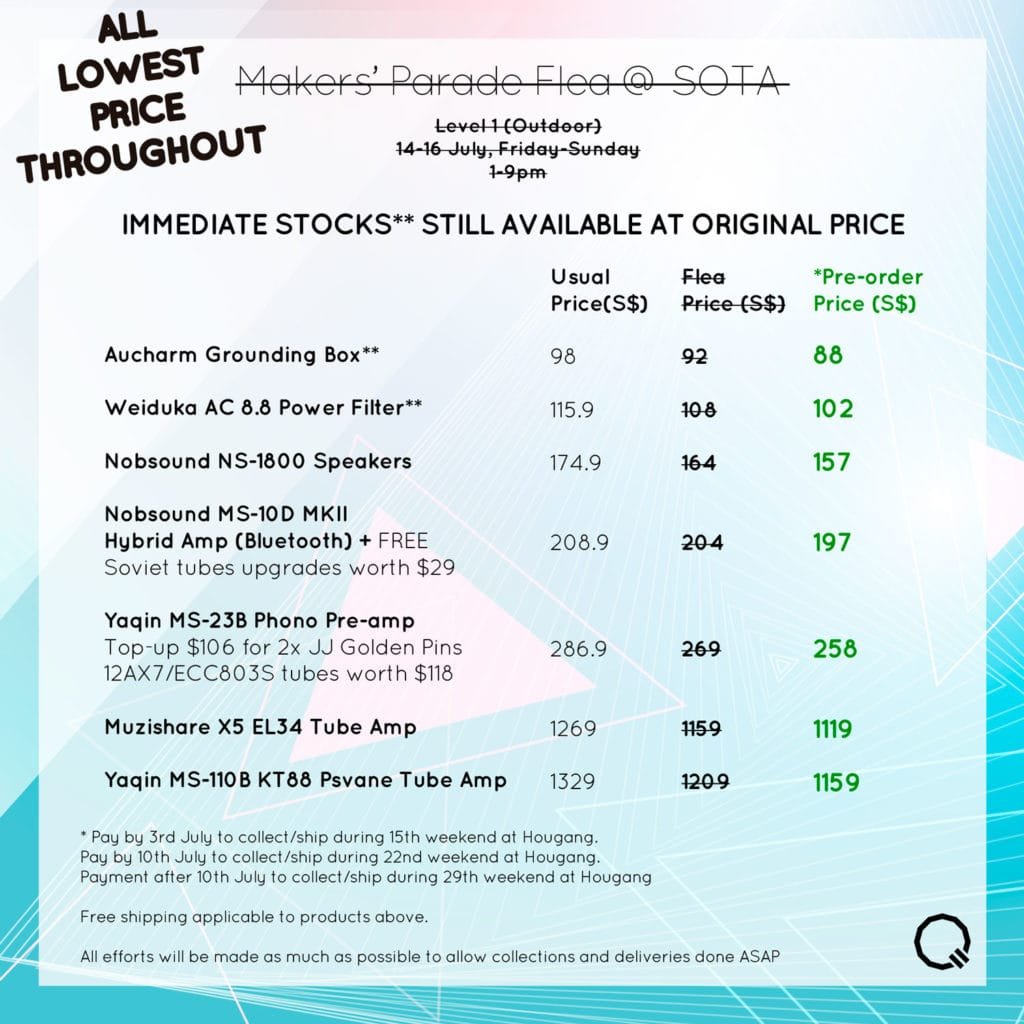 Save
Save
Save
Save
Save