Muzishare is a brand that enjoys quite a bit of popularity worldwide. It is hard not to, when it has the design appeal and construction of a fine tube amp, and performing just as well as it looks. X5 from Muzishare possesses all that great quality and carrying the EL34s as its power tubes, we do need further decision to bring that in as the first Muzishare tube amp on sale at QA.
EL34 tube is a very versatile tube type in terms of the varieties it has for replacement and rolling. Main sound signature for EL34 is the smooth and sweet midrange it extends to the upper region of the frequency spectrums. Vocal lovers, this tube type is your best companion! Be mesmerised by your favourite artistes singing with a true presentation in front of you, probably even catching the breathing done!
Getting more details of this amp is entirely possible if better quality of EL34s are inserted in or with rolling of 6L6G/6L6GC tubes. Your listening experience may be transformed with a livelier soundstage and added crisp. If you find yourself having 5881s instead, no problem too. These military tube variants are acceptable into this Muzishare X5 tube amp as well. That is what we called flexibility.
Pre-amp section of the tube amp is driven by 2x 12AU7 and 2x 12AX7 tubes. Easily available with different brands and vintage types too, rolling these tubes will add on to the fun of creating a sound flavour to your liking!
With so many tubes available for rolling, biasing of the tubes is important to ensure the tubes put in are always operating at their best settings. X5 brings tube biasing to a great level of ease, with just a flat-head screwdriver needed. The front panel of the amp is a VU-meter lookalike that negates the requirement of a multimeter. That is the bias meter used for gauging the correct amount of current going to the tubes. There is a knob on the top of the amp on the right-hand side indicating which tube to select to while doing the bias, and that is also indicative of the reading with respect to the tube it measures off. Biasing is simply adjusting the adjustment screws on the side of the top panel respective to the tubes labelled until the needle in the bias meter points to the accepted range.
To the right of the bias meter are two fantastically-made aluminium knobs from CNC machining. Controlling the volume is a smooth act, while changing between the input settings is a solid affair. With 4 inputs selection to plug in and choose from, you can plug in a wide range of sources to play your favourite music from!
Two wonderful features of this X5 are found to the left of the bias meter. A 6.35mm headphone out ensures this amp not only powers speakers, but it can also drive headphones of any sizes and demands without difficulties at all! Dedicated tube-powered headphone amps can cost close to what this X5 is offering. At the same time, they may use tubes less commonly found for replacement or rolling. This restricts the headphone amp from performing to a variety of sound flavours.  An amp like X5 almost brings the best of all worlds in giving you one package with exceeding performance, cost and versatility.
The switch beside the headphone out is to toggle between Ultralinear and Triode mode of the amp. These two modes are common connections within the circuit of tube amps that provides different power outputs and also different flavours of sounds. Ultralinear has a high power output, i.e higher gain. It boots a higher dynamism to the sounds, like a SS amp in some sense. This mode is great for orchestra, ensemble and classical genre of music.
Triode mode on the hand has a lower power output. Volume control tends to need to be higher for similar sound level appreciation. However, this mode has an emphasis to midrange of the music. Hence it is a very popular mode chosen for vocal genres like pop and opera. Either mode can be toggled on the fly even with the music being played. A-B auditioning can be done to see which mode is preferred.
At the back panel are high-quality binding posts and RCA jacks that are bound to secure all connections hooked to them. RCA caps are provided to cover whichever ports not used to prevent oxidisation of the contacts. A voltage switch at the back allows the X5 to be usable anywhere in the wold regardless of 110v or 220v AC.
Weighing close to 18kg, the entire amp was constructed out of solid materials like steel and aluminium. The front panel is already one 10mm thick aluminium. The rest of the chassis is an enclosure well-glazed with sand-blasted glittering gloss that does not leave fingerprints. Quality of the construction extended to the cage. No tools are needed to fix it over the tubes. With a banana-plug-like feature, the cage can be affixed securely to the amp. Removing it from the socket is just as easy and quick. Brilliant!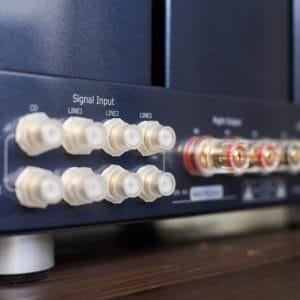 Finally, the other piece of well-machined hardware is the remote control. Crafted entirely out of aluminium, it matches excellent with aesthetics of X5. While it only offers volume adjustment and mute/unmute operation, having that remote on your hands is undoubtedly a convenient in controlling the volumes while seated comfortably on your listening spot.
Order your Muzishare X5 integrated tube amp now!!
Save
Save
Save
Save
Save